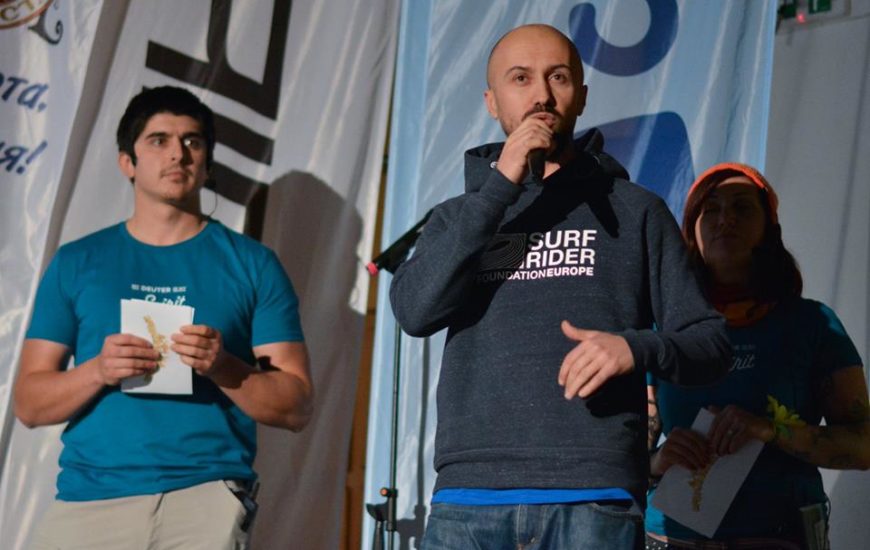 La mission de Surfrider Sofia est de contribuer à l'amélioration de la qualité de l'eau, de l'accès des habitants aux plages et aux côtes, ainsi qu'au développement durable et responsable des zones côtières bulgares.
Nos principaux efforts sont concentrés sur:
L'organisation de nettoyages réguliers des plages, des rivières et des lacs;
Participation, par le biais de stands d'informations et d'enseignements, à divers événements comme des expositions de sports extrêmes et nautiques, des festivals bio et écologiques, des concerts, des compétitions sportives et de nombreuses autres activités;
Organisation de compétitions sportives (surf, windsurf, kitesurf, wakeboard) , snowboard, ski, etc.);
Introduction et développement de programmes éducatifs spécialisés dans les écoles et en coopération avec d'autres organisations dans le but d'éduquer la nouvelle génération à une nouvelle façon moderne et écologique de penser la mer, les eaux et la la nature qui les entoure;
Participation aux Initiatives Océanes de Surfrider Foundation Europe.
Surfrider Sofia's mission is to contribute to the improvement of the water quality, people's access to the beaches and the sea cost and to provide for the sustainable and responsible development of the Bulgarian coastal zones.
Our main efforts are focused on:
Organization of regular cleanings of beach, river and lake coasts;
Participation through informational and educational stands in various events such as extreme and water sports exhibitions, bio & eco festivals, concerts, sports competitions and many other activities;
Organization of sports competitions (surf, windsurf, kitesurf, wakeboard, snowboard, ski, etc.);
Introduction and development of specialized educational programs in schools and in cooperation with other organizations with the purpose of educating the new generation in a new, modern, ecological way of thinking about the sea, the waters and the nature around them;
Participation in Surfrider Foundation Europe's initiatives.
Мисията на Surfrider Sofia е да помогне за подобряването на качеството на водата, достъпът на хората до плажовете и морския бряг и осигуряването на устойчиво и отговорно развитие на българските крайбрежни зони.
Основните ни усилия са съсредоточени в:
Организиране на редовни почиствания на плажове, речни и езерни брегове;
Участие чрез информационни и образователни щандове на различни събития като изложения за екстремни и водни спортове, био&еко фестове,
концерти, спортни състезания и много други прояви;
Организиране на спортни състезания (сърф, уиндсърф, кайт сърф, уейкборд, сноуборд, ски и др.);
Въвеждане и разработване на специализирани образователни програми в училищата и със съдействието на други организации с цел възпитаване на новото поколение в едно ново модерно, екологично мислене за морето, водите и природата около тях;
Участие в инициативите на Surfrider Foundation Europe.