Ocean Initiatives
– 25 years of fights
– 15 368 clean-up operations since 1996
– 40 000 participants per year
– 40 countries commited
Coastal Defenders (since 2008)
– 82 environmental campaigns carried out
– 13 environmental campaigns in progress
Local chapters
– 48 local chapters

– in 12 European countries

Skills-based volunteering
– More than 300 volunteers with a wide range of skills
Give a few hours of your time… Or more!
Work in the field… Or remotely!
At Surfrider Foundation Europe, we offer two types of volunteering :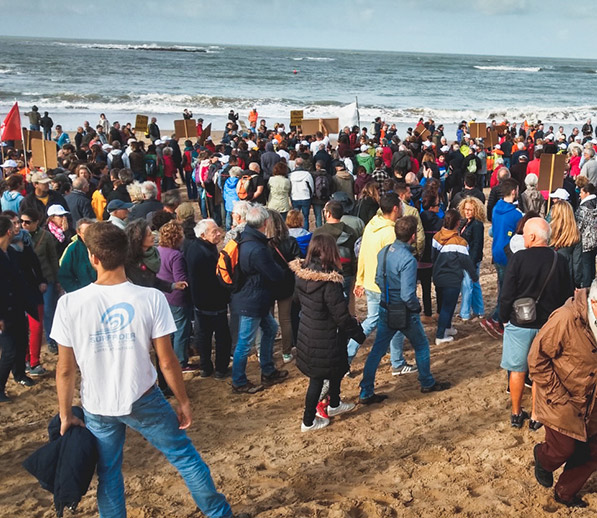 Volunteering in the field :
You can become a volunteer in the field by getting involved with the following programs: Ocean Initiatives and local chapters. They are field initiatives, taking place outside working hours.
Ocean Initiatives

A Surfrider Foundation program that tackles aquatic waste through education, participatory science and lobbying. This includes beach, ocean, lake and river bank clean-ups, taking place all over the world. These clean-ups are organized by volunteers with the support of Surfrider Foundation Europe.
You can take action occasionnally, by yourself or within a team, self-managing or within an existing initiative.
Local chapters
Local chapters are local volunteering groups spread all around Europe. They manage various events, actions, and environmental campaigns thanks to the Coastal Defenders program, in Surfrider's name. They are Surfrider local representatives who take action in the long run, within their region, according to their own skills and interests.
Have a look at the local chapter map over here.
Skills-based volunteering
Occasional or in the long run involvement (depending on the missions) matching the volunteer's professional skills.

I'm thrilled to work as volunteer with a team of incredibly dedicated people and to be united with them toward a common goal: Protect the environment.
Marie Drillet

Since the beginning of my volunteering job in 2020, a lot of webinars where offered to learn more about the actual work and goals of Surfrider Europe and the environmental issues they address in their campaigns. The discussions are always on a very professional level while every participant is addressed, involving an international audience of fun people with high interest in the particular topics. After a little time, I got my first translation job and I am happy to have contributed a tiny part to a running campaign.
Meike Loock

My volunteering experience at Surfrider Foundation Europe has been so interesting! As an ecology student it is a great opportunity to learn more about the actions taken by the NGO. I'm glad I got to read (and translate) directives, which made me discover the more administrative and legal parts of conservation.
Michelle Silva del Pozo

These two years from the founding of Surfrider Genova (the second Local Chapter in Italy), have been a great adventure. We have managed to organise a lot of cleanups and collect precious data on which are the items that most pollute our beaches. With these numbers we have talked to politicians at the City and Regional level in order to bring forward our proposals to reduce pollution at its source. We are happy to bring Surfrider Europe's 30 years experience and our strong motivation and knowledge together to drive change in the right direction! We will continue raising awareness on ocean pollution and the impacts of climate change through our actions and initiatives
Andrea Cavalleroni

I work as a creative copywriter, so I get to help the team with French and English content whenever I can. It goes from writing, translating, proofreading content to sharing on my socials the latest campaign to help raise awareness towards oceans preservation. They give me the opportunity to use my skills to serve my ethics and I am very grateful for that. As an ocean lover, volunteering for Surfrider Europe Foundation just feels right.
Deborah Picard

My name is Marie Orain, I am volunteer and member at Surfrider Paris and Les Landes chapters. It's been 2 years now that I participate and organize several actions to help Surfrider Foundation Europe to sensitive every human in France. Each project is a nice and funny adventure, with great varieties : education, DIY workshop, conference, zero waste family program, initiatives oceanes, you never become bored! Surfrider brings me positivity and creativity thanks to concrete actions and engaged people that you meet each time
Marie Orain

Being a volunteer in the Côte basque chapter has been such a reward! I have learnt so much about ocean and everything around it, human waste and how to actively decrease it and more than ever about team spirit and collective positive impacts. I enjoyed it so much that I have decided to share the responsibility of the chapter with two other wonderful ladies since October 2020. Feel free to join us, we need your hands, brain and energy!
Mathilde Thoniel

Support Surfrider Europe as a translation volunteer gave me the opportunity to ``remotely`` get involved in a cause close to my heart. It also helped me acquire knowledge on certain matters (microplastics, water quality, etc) and thus raise awareness among my relatives.
Alexandra Charrier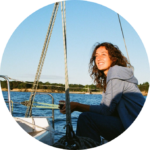 I really wanted to be part of a project highlighting my values and to take action. I have lived on the shore since I was born, I always felt concerned about beach pollution and floating waste on waterways. I went straight towards the Surfrider Foundation, attracted by its fights, its pedagogy and its dynamism. It has been 6 years since they gave me the opportunity to translate different documents for their website and campaigns from french to english. It has been one of the best ways to improve my language skills at the same time than feeling useful and defending a cause that makes sense to me, to protect the Ocean
Gwénola Samzun

Volunteer since one year in the SW of France, I decided to join Surfrider in order to act for our planet and oceans. As an urban planner, I am interested about urban issues and the environment, so I could act for a sustainable future right now. With the organisations of actions and meetings, I met a lot of actors and citizens with the objective to let the same message : PROTECT OUR OCEANS !
Nathan Jobard

My name is Olivia, I live on the Mediterranean, and I have been a volunteer for Surfrider Europe for almost a year now. Committing yourself to a non-profit allows you to live your passions in a consistent way. It allows you to meet people who share your interests, to create rich exchanges, and to learn many things while helping a cause that you truly care about. This past year has been filled with unforgettable moments, and I know this is just the beginning of a beautiful experience.
Olivia Garcia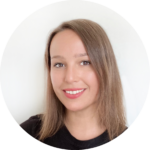 The coastline being a part of my daily life it was understandably close to my heart to take part in that battle for the protection of the ocean and the marine life. I have chosen the missions I wanted according to my preferences and my skills in graphic arts. I have worked on the creation of communication tools, I take part in the "Ocean Initiatives" and I do my best to carry the messages of Surfrider in order to increase my network's awareness. I am glad to be part of this committed and kind community.
Justine Olivia Tellier

Offering my free time and my skills at the service of an organization that I have been supporting for years makes me really proud. I don't have the impression of "working" for Surfrider Foundation in the literal sense but rather to contribute in my own little way to something right and important for me… and for everyone. There is never only a small action!
Joanna Chiapasco

I am Izabella Adamkiewicz, communication referent of the local Surfrider Var chapter. Creation (take over) of the chapter in 2019. I wanted to join Surfrider Foundation Europe to express my interest towards a cause. Being part of those who work at improving things to help the others and take part in the greater well-being of the collectivity. To take part in a positive change of our environment, set an example, raise awareness with the desire to convey a positive image of the community, with concrete actions on the field. Give our time wholeheartedly as a committed and responsible eco-citizen. Ever since my commitment to Surfrider Var, it allowed me to put into practice my communication and gathering skills. Being willing to boost volunteers and teams. To work in partnerships with other organizations. It is a beautiful experience.
Izabella Adamkiewicz

Surfrider allows me to act for environmental and oceans protection by concrete actions. I have been volunteering for one year and I was able to intervene with schools (From primary school to higher education) but also on stands during festivals as well as during "Ocean Initiatives". I really appreciate conveying consciousness-raising messages towards the public, whether it is children or adults from different social and cultural levels. It is all the more interesting. In this way, I have been able to intervene with a hostel for migrants and soon with patients with a psychiatric pathology.
Elise Kerfriden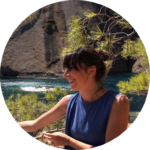 Volunteering with Surfrider Paris taught me a lot. I was able to meet wonderful people and improve my knowledge on many subjects! We develop our qualities of open-mindedness and curiosity. But also our project management skills. It remains a job, but completely different, with very little hierarchy and where we can find some liberty. It is difficult to describe everything as there are so many positive elements in volunteering… In this current context, with an adrift world, we can often have moments of discouragement, of doubts, and meeting these motivating people, acting together, make us want to surpass ourselves and continue for a cause that is dear to us. The famous sentence "Acting makes happy" sums up things pretty well after all…
Claire Bordas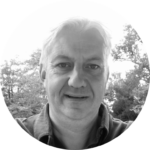 I have been volunteering for Surfrider Foundation Europe for more than 20 years, I am fond of this organization for its campaigns, its commitments and its little fun side. Without ever imposing things, it conveys the message to the authorities as well as to the fellow citizens to improve the bathing waters quality by stopping all forms of aquatic and terrestrial pollution. I know a lot of branches and volunteers, each one is different according to the place where they are, but what is amazing is that we all act towards the same goal, Surfrider Foundation is above all a big family.
Bruno Vantyghem-Pauly

My name is Arnaud, I have joined the Seine Maritime chapter of Surfrider Foundation Europe in 2015. The actions led with the chapter and the Surfrider Coastal Defender team allowed me to open to others, to gain self-confidence and finished to convince me that mutual aid and kindness allow to take up every challenges. I have discovered who I really was. It made me stronger. I have changed jobs and moved into another work that really suits me. I am really happy to have joined Surfrider.
Arnaud Freret

I took the opportunity of my maternity leave to become a volunteer for Surfrider Foundation. I helped translate an offshore drilling study from French to German. Not only was it extremely interesting but also the team was very friendly and the schedule flexible. I would be delighted to perform another mission! And I recommend it!!
Katharina Poirier

I have been a volunteer at Paris chapter for one and a half year and I have been involved in a lot of activities: Ocean Initiatives, project management and translation. On top of that, I have met great people who make things happen!
Nicolas Margelin


I joined as a volunteer during the ``beach movie festival``. I shared their values, I discovered more precisely their activities and understood that I could be helpful without being an environmental expert. I got involved in a clean-up. I thought it was not a lot but two young girls on the beach came to question me and naturally began to collect the wastes: goal acheived 😊. The education of the youngest seems essential to me. The webinars help me to get more informed. As far as I am concerned, I wish to raise awareness.
Noémie Persicot

I got involved in the Saint-Jean-Cap-Ferrat beach clean-up this summer. We borrowed paddles and we were hosted with a little buffet at the end of the collect. All wastes were sorted in front of us, the organizers were really friendly and interesting, I learned a lot in half a day!
Rosalie Pierre

My name is Veronique and the sea has always been important in my life to practice sports and to meditate. Helping by translating is a way to get back to the sea by protecting it. We can all contribute by doing a little something. Here are 4 lines and a photo. Good luck.
Veronique Bernier

`` I joined Surfrider Foundation as a skilled volunteer. It was a good opportunity for me to develop my communication skills while getting involved in a cause dear to my heart. The little extras: the team is really friendly, very reactive and grateful for the work we provide. And what a privilege to have access to communication campaigns before others!``
Yoann Drouard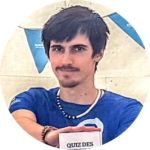 ``I immediatly got along with Paris local Chapter. I really appreciate the association's goodwill. The range of possible actions in order to raise people's awareness, whether in the field with Ocean Initiatives, at schools or during major festive events such as Solidays, is a strength! My first participation was to run a booth at the Waste-Free Day in Courbevoie (picture). Since then, I have joined the local Chapter with the desire to develop our fields of actions and to make things happen!``
Yoann Garnier

Inquiring about the ocean is the first step
to preserving it. Discover our e-learning platform
offering an overview of ocean pollution data, the
type of impact you can have as well as the actions
undertaken by Surfrider.